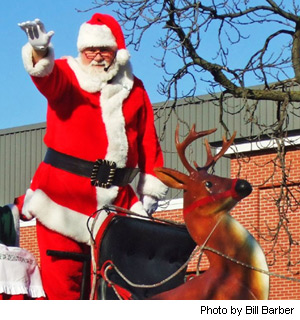 Ho ho ho from the chilly Richmond District!


Santa Claus is coming to town the Richmond! Next Thursday afternoon, Angelina's Cafe will have their annual Santa event. Bring the kids for a pic with Santa, plus cookie decorating and a magic show. All free, all fun. If we're lucky, it might even snow. 😉
To be or not to be? That will be the question when Hamlet is performed at the Richmond Library next Wednesday night, courtesy of the San Francisco Shakespeare Festival. Admission is free, skulls are optional.
La Danse, the documentary about the Paris Opera Ballet company, finishes its run this weekend at the Balboa Theater. I saw it last weekend and loved the mix of traditional and contemporary ballet, along with the mechanics of both the artistic and business sides of the company. I give it three out of four tutus!
When it's this cold outside, I inevitably resort to comfort food to warm myself up. Good thing the Park Chalet restaurant is offering 50% off their lunch and dinner menu every Wednesday night in December. Burgers, sticky ribs, crab cakes, pizza… You know you want it.
Despite the near-freezing temperatures lately, it's not cold enough to demand drying your vegetables inside. This local resident feels their front stairs would be a better place for it.
I'll leave you this week with some neighborhood history. Playland at the Beach used to be an amusement park out on the Great Highway until its demise in 1972. View on the Bay ran a nice feature on the park recently; check it out below.
Stay warm and have a great weekend!
Sarah B.
Richmondsfblog.com | Follow us on: Twitter | Facebook