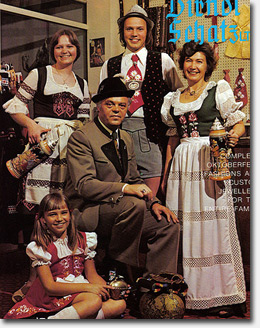 Hallo from the Richmond District!
No, that's not a typo, I was saying hello in German because Oktoberfest is happening this weekend. Our local YMCA is hosting Oktoberfest in November this Sunday featuring traditional Oktoberfest fun and food for the whole family including German and Austrian food, beer, dancing, sing-a-longs, crafts, gingerbread heart cookies, salted pretzels and more! Even free rides home for those who imbibe too much. We're very neighborly that way.
If you favor red lanterns over lederhosen, the Chinese American Film Festival at the 4-Star Theater may be more to your liking. Running November 13-20, the festival features eight Chinese American films spanning many genres and includes Red Cliff II, the most expensive Asian-financed film to date at $80 million. Find out more and watch a couple of trailers. Oh and don't worry – all the films have English subtitles. We got your back!
In restaurant news this week, one of our beloved greasy spoons, Eats, is closing down. This favorite brunch spot is being taken over by the Burma Superstar conglomerate. R.I.P Eats!
I also sat down with the Angie behind Angelina's Cafe & Deli, a neighborhood favorite for 26 years (California & 22nd Avenue). Our beloved Cliff House celebrated their 100th birthday with a Centennial Gala last Wednesday. They sent over a few pics from the event, including shots of the staff wearing period dresses made from vintage Cliff House menus. Tim Gunn, eat your heart out.
In transportation news this week, I invited two Davids, David Heller and David Snyder, to weigh in on the Geary Bus Rapid Transit project that is the subject of much debate among residents. See what they have to say about the $250 million project.
In animal/art news is the sad tale of a hippopotamus named Thomus who can no longer call the Richmond District home. No, he wasn't an eccentric pet but rather a 400 pound statue that sat in front of Dannette Peltier's house in Sutro Heights. The night before Halloween, Thomus was kidnapped from his sidewalk home. How a 400 pound statue disappears from a quiet street is beyond me, but stranger things have happened in San Francisco. I hope he didn't mistakenly head to Seal Rock… Thomus, phone home!
I leave you with a video tour of a local church at Funston Avenue and Clement Street (just off Park Presidio). It's an impressive building from the outside and one that most residents have never entered. The Internet Archive purchased the church and will move their offices there in 2010. They shot the video below which shows the inside of this Richmond District landmark.
Have a great weekend everyone!
Sarah B.
Richmondsfblog.com | Twitter | Facebook